We started trading in York, just over ten years ago, initially on the seasonal markets at Easter & Christmas latterly with our little shop.
York is a really vibrant City, and has many quirky little shops that you might just miss should you not be in the know. York's streets are so beautiful it's very easy to miss some of these hidden little gems that have only appeared in York within in the last year!
5. Love Cheese - Gillygate, York
When you are called Cuffs & Co, and your all about cufflinks, then you have just got to LOVE CHEESE! The name of this great little shop sums up the passion the owners show for their cheese.
So much more than just a cheese counter. They offer wine pairing, a little cafe area with tasting boards, and if you are lucky enough to be in York when they are hosting a Cheese night, then get booked in! These nights offer an opportunity to try lots of delicious cheese with wine, did we mention the wine?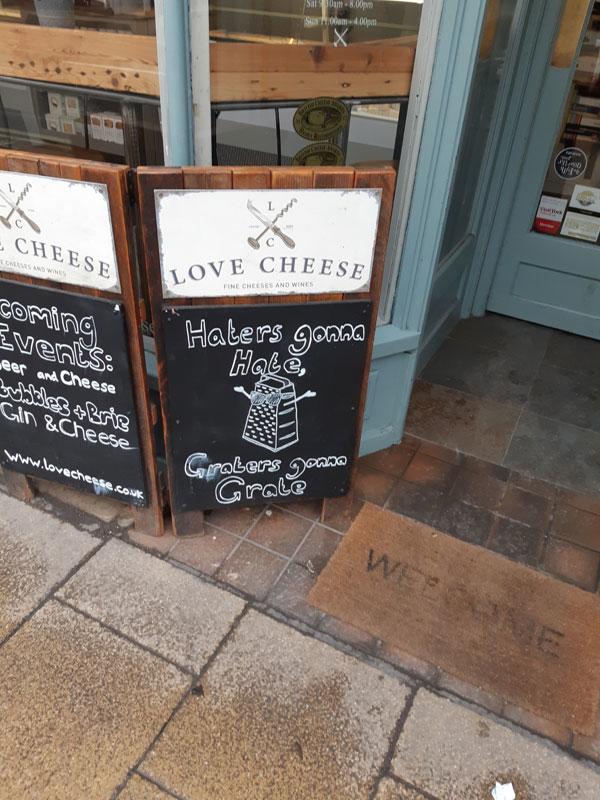 In addition, there is always the humour, as this great little sign that was spotted recently outside the door.
4. Pinder & Scott - 6 Shambles, York
Formerly called Via Vecchia this newly named bakery is still the same great shop, just with a new name.
They sell freshly made bread that is baked daily on the premises and on sale every Tuesday to Saturday. The local favourite we are told is Cheese & Marmite, a bread you will either love or hate. Our favourite is the Cinnamon & Raisin, a delicious toasted breakfast treat when made with lashings of butter.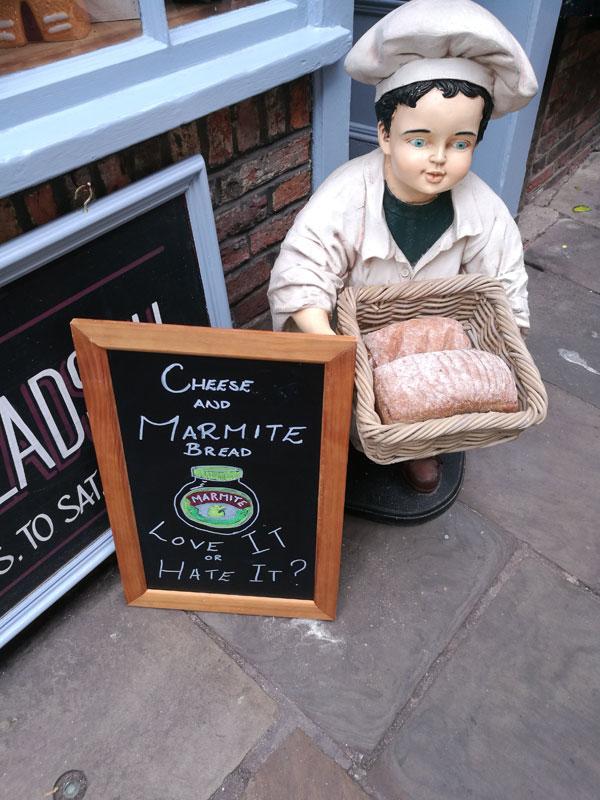 If you are visiting on a Saturday, make this an early stop, as they often sell out on busy weekends. The perfect breads to accompany any picnic in York's many gardens and grounds.
You won't struggle to find the shop, just look for the little baker boy who proudly stands outside when bread is on sale.
3. The Great Yorkshire Sweet Shop - Church Street, York
When you imagine a sweet shop it looks just like this one! Sweetie jars adorn the walls with all your childhood favourites, as well as a fabulous pick and mix style counter.
The front of the shop showcases the best in international sweets or candy as our US cousins would say. Fabulous drinks and sweets you just won't find in any old supermarket.
We'll have a quarter of sherbet lemons please!
2. The Potions Cauldron - Shambles, York
Often referred to as the inspiration for Diagon Alley in the Harry Potter book series, has seen a recent wizardy feel takeover a number of stores on the street.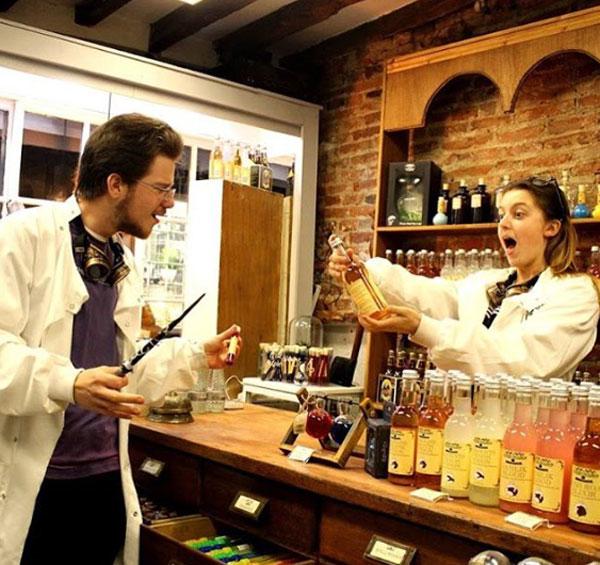 Where The Potions Cauldron is different is that it is not just selling Harry Potter merchandise, but has a believable backstory that would make you think it had been part of the original wizard inspiration. The shop allows wizards of all ages to mix drinkable potions, and even has a small but quirky back room where you can sit and enjoy your potions. Our favourite is the Hot Chocolate Frog!
1. Cuffs & Co, 72 Goodramgate, York
Come on what were you expecting? The only cufflinks shop in the world. We were originally based on the Shambles, but have moved around the corner to an even quirkier building dating back 800-1,000 years old! The new shop boasts our range of shirts and stocks the SOCK CLUB stock range of tinned socks. If you can't find a gift for any man in this shop, then he is not worthy of a gift in our humble opinion!